At Feeney Brothers, we believe in operating safely, ethically, and in the most sustainable manner possible, while partnering with our customers and suppliers in their own pursuit of sustainability. We act with a safety mindset and a commitment to quality to be the most reputable partner in our industry. Our impact is showcased in the innovative work we do, our customers' satisfaction, and the difference we make in the communities we serve.
By prioritizing safety, protecting our environment, supporting our people, and acting with integrity, we are working in a way that enables us to make our mission a reality.
Our four ESG pillars are: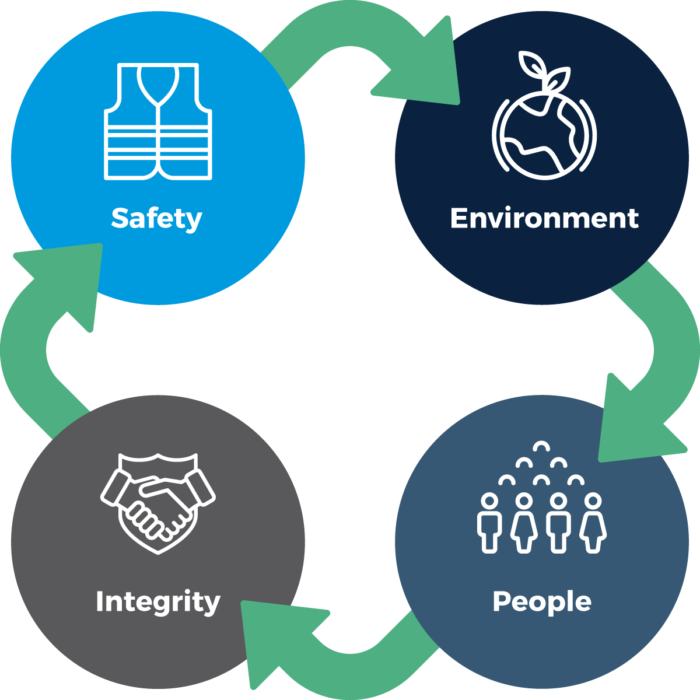 safety
Safety is embedded in all we do. We act safely in our operations because our team members, communities, and customers matter to us. We are committed to everyone returning home safely, every day, while providing safe and reliable energy to our nation.
Starting on Day One
Safety is paramount in everything we do and it's an integral part of how we work and our employee experience. We strive to be the most safety-conscious workforce in the country, and that drives our dedication to eliminate hazards, mitigate risk, and protect our team members. Our training programs teach our employees to consistently deliver quality utility projects in the safest manner possible, and new employees joining our team receive 80 hours of extensive safety training to set them up for success.
Ensuring Safety Training & Compliance
Training doesn't stop after day one. All current team members participate in at least 40 hours of safety training and continuing education every year, so they know the latest techniques and standards. Our state-of-the-art classroom facilities are dedicated to in-person training, and we use the newest educational tools, including simulators, for hands-on, real-world training programs. Learn more about the innovative ways we train by clicking here.
Beyond training, teams hold multiple daily job safety briefings and participate in regular safety meetings with leaders, so they can recognize and respond to hazards and understand the latest safety trends. Crews use tablets to access procedures, bulletins, crew reports, and more, so the latest information they need is only a click away, regardless of where they are working.
We want to deliver quality projects in the safest manner possible. Our experienced safety team members perform regular inspections and site audits, and our internal audit application ensures our inspectors see an accurate depiction of our worksites. Many team members also have safety-related certifications — all to ensure we keep our people and communities safe.
Staying Safe on the Road
Given our fleet size and the work we do, vehicle and equipment safety is a top priority, and we are proud that our Preventable Motor Vehicle Accident (PMVI) is lower than the industry standard. Our employees receive hands-on training for safe driving and equipment operation in a controlled environment. We continue investing in dash cams, back-up sensors, and telematics solutions that can help our team members adopt safe driving habits and prevent or reduce automotive accidents.

Learn more about how the safest way is the Feeney way by clicking here
Environment
We strongly believe in the stewardship of our natural environment, and that it is our responsibility to protect and preserve it for generations to come. This is why we provide solutions that accelerate the reduction of methane and carbon emissions while enabling more sustainable processes for delivering essential utilities to our communities.
Driving Emissions Reduction
While we help our customers meet their sustainability goals, we are also focused on minimizing our impact through emissions reductions. We have a large fleet of vehicles and heavy equipment, and we are actively exploring ways to reduce vehicle idle times, optimize our routes, and use fuel alternatives.
Investing in Innovation & New Opportunities
Because our work can affect the environment and our communities, we invest in innovation for our equipment, employee training, and compliance programs to ensure our work is completed in the most sustainable manner possible. By using more efficient methods, we need fewer vehicles, equipment, and carbon-intensive materials on our worksites. We also have a fleet of vacuum excavation trucks, so we can start our projects by safely exposing underground utilities and preventing damage and strikes.
We also partner with our sister company Versiv Solutions, to offer innovative solutions to customers on our projects. Cross compression is a process by which natural gas is compressed and recycled back into the pipeline as an alternative to venting, flaring, or blowdown during pipeline maintenance, repairs, and installation. We partner with Versiv Solutions to play a key role in mitigating methane emissions and minimizing community impact in repairing pipelines. Learn more here.
Supporting Material Reuse & Recycling
We are committed to recycling and reducing waste at our locations and on our worksites. Because our teams use more efficient construction methods, we need fewer vehicles, equipment, and carbon-intensive materials on our worksites. We can also recycle or reuse original materials instead of sending them to the landfill or requiring the mining of new material.
At our office locations, we are actively reducing our carbon footprint through innovative ideas for our industry. We installed a 66,000 PVC watt solar panel system on the roof of our headquarters in Boston, Massachusetts. It has generated 678,368.95 KWH since 2013, and in 2020 alone, it generated 80,124 KWH, which translates roughly to saving 470 trees, 207,000 lbs of coal for electricity generation, and more than 500,000 hours of residential home energy usage.
Our team members support reuse and recycling efforts by participating in our Earthworm program which encourages waste reduction and the recycling of paper, plastic, glass, and metal. We have also limited single-use water and coffee cups, instead opting for reusable tumblers. This team effort has lowered our carbon footprint by 35%.

People
People are what matter most to Feeney Brothers. This is why we empower our team members, suppliers, customers, and communities to play leadership roles in advancing a more inclusive, respectful, and prosperous world.
Fostering Diversity and Inclusion
We believe in the dignity of all human beings. We believe that diversity—be it race, ethnicity, religion, orientation, gender, age, background, experience, or any other quality that makes each of us unique—adds depth and value to our team. We believe in an environment where every team member is included, respected, and safe to share their thoughts and opinions. Discrimination and injustice have no place in our culture, our offices and our job sites.
Empowering Our People
Our qualified, experienced team members provide high-quality service and customer care with unwavering focus on safety. That's why we participate in job fairs and community events to attract the best people and keep them here with competitive compensation, comprehensive benefits, a community-focused culture, and one of the most innovative, extensive training and development programs in our industry
We invest in first-class training and support opportunities for our teams, so they can work safely and build rewarding careers. We use the newest educational tools, including simulators, for hands-on, real-world training in classes like our five-week Development Training program for site leaders and the Operator Training program available to all employees. We also have state-of-the-art classroom facilities for operator training. From 2019-2021, our team members completed nearly 145,000 hours of training to help them become successful leaders.
Giving Back to Our Communities
Community is one of the cornerstones of our operation and our team members are very active in giving back and volunteering in the communities where we live, work, and play. During the 2021 holiday season, we partnered with local leaders to select eight organizations that most needed our support.  These groups included food banks, toy drives, and charitable causes for police, firefighters, and veterans and our team enthusiastically rallied support for these initiatives. We also participate in outreach events to educate the community about our industry. Click here to learn more.
Encouraging Supplier Diversity
Our commitment to diversity extends beyond our own operations. We are cultivating relationships with partners through our Supplier Diversity Program, which helps increase minority-owned business participation in the industry.

Integrity
Integrity is at the core of our company, starting with conducting business ethically and with unwavering honesty. We do what's right, even when no one is watching.
Centering Ethics & Compliance
At Feeney Brothers, we are committed to doing the right thing — even when no one is watching. Our teams approach every job with an honest, transparent, and hardworking attitude, ensuring we meet our customers' goals with quality results and extraordinary service. Through our Business Code of Conduct program, we ensure our employees and anyone we work with understand and adhere to the same uncompromising commitment to ethics and compliance.
Protecting Data Security & Privacy
We recognize the importance of maintaining high standards when it comes to protecting our digital assets and our customers' data. Our cybersecurity program is threat intelligence-driven, and our security team continuously monitors the threat landscape to understand new and emerging vulnerabilities, cyber threats, and threat actors to ensure our cyber controls and safeguards remain effective.